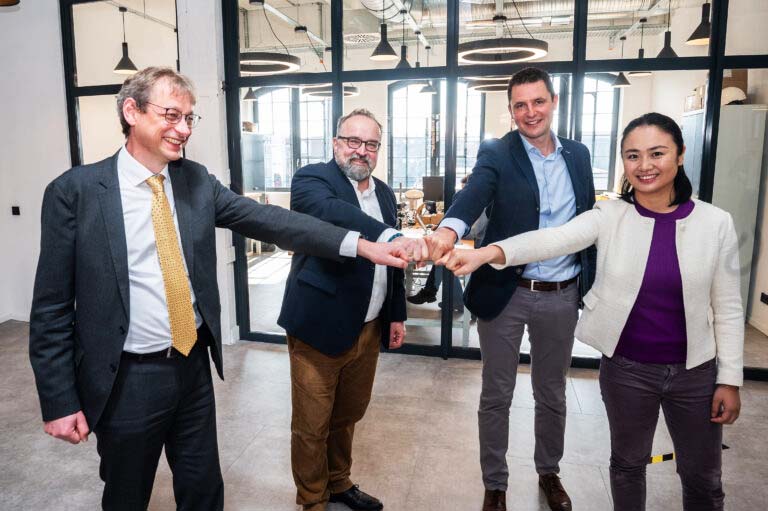 Continental, TU Hamburg and Tutech: Five-year cooperation agreement officially signed
Focus on digitalisation, software engineering and green technology. Continental expands network in Hamburg innovation hotspot.
More flexible, more competitive, and more sustainable: The collaboration between Continental, the Hamburg University of Technology and the knowledge and technology transfer company Tutech Innovation GmbH is gaining momentum. At the Hamburg location, the three partners signed a five-year cooperation agreement covering comprehensive and centrally managed collaboration. Continental has been in contact with the two organisations since 2018, and has already initiated individual projects in the areas of digitalisation, software engineering and green technologies. They are now systematically building on this.
Profitable partnership
Science and business, theory and practice complement and stimulate each other, as shown by the many successful collaborations between universities, companies, research facilities and start-up companies. And if the partners also join together in a network, this can result in an effective and highly flexible pool of ideas and innovations from which all concerned benefit and continue to develop. This is precisely what we see in the recently established collaboration between Continental, Hamburg University of Technology and Tutech.

Research and development in the innovation hotspot
"The close links between theory and practice are of course extremely valuable, but it goes beyond that. Together with Hamburg University of Technology and Tutech, we make up a trio with different strengths. This new partnership is intended to accelerate innovation activities. Because research and application in the fields of materials and digitalisation are a very good fit for us," emphasises Christoph Seeger, who is responsible for innovations, business development and digital solutions in the industrial sector at Continental. "We look forward to further collaborative ventures to actively expand the future in partnership and further strengthen Hamburg's industrial ecosystem." Ran Escher, responsible at Continental for partner management in the industrial sector, adds, "We very much appreciate cooperation with the partners. Continental offers comprehensive experience and product expertise from the industrial side. Hamburg University of Technology provides the necessary knowledge, and Tutech helps with coordinating and advising on funding programmes." Continental is already working with both institutions on projects focusing on hydrogen technology and printed electronics.
"Of course, it's also because many Continental business areas benefit from the cooperation. First, to promote young talent, but also to make our company and our partners even more effective. The networking concept behind this is essential for us, particularly as it concerns the Hamburg region," says Escher. Further collaborations with start-up and tech companies from northern Germany have already been decided. Hamburg has established itself as a focal point, particularly for the topics of sustainability and artificial intelligence, but also as an agile start-up culture.

Promoting young talent and knowledge transfer
The cooperation is also an important source of inspiration for the Hamburg University of Technology: "Continental is an innovative company, and its core areas fit in very well with the Hamburg University of Technology. Technology and knowledge transfer as a partnership-based exchange with industry is a fundamental element of a university of technology. The partnership with Continental supports the university's drive to develop science-based technological solutions for people," explains Andreas Timm-Giel, President of Hamburg University of Technology. "Our students also benefit from this shared and active network. Combining theory and practice is useful preparation for a successful career start."
Martin Mahn, managing director of Tutech Innovation GmbH, adds: "University research, industrial production and knowledge transfer have been working together at the Harburg location for a long time. This collaboration is now being taken to a new level – we want to utilise the entire range of transfer formats together for five years. Particularly, we want to focus on the application of new findings in the cutting-edge topics of digitalisation, new materials and green technologies. This will not only advance the partners, but also and particularly the city of Hamburg, with its innovation hotspot Harburg."
Continental develops pioneering technologies and services for sustainable and connected mobility of people and their goods. Founded in 1871, the technology company offers safe, efficient, intelligent and affordable solutions for vehicles, machines, traffic and transportation. In 2021, Continental generated sales of €33.8 billion and currently employs more than 190,000 people in 58 countries and markets. On 8 October 2021, the company celebrated its 150th anniversary.
Press contact
Sébastien Bonset
External Communications Manager
Group Sector ContiTech, Continental
Tel: +49 511 938 14 22
Email: sebastien.bonset@contitech.de
Jochen Kilian
Communication & Marketing, TUTECH
Tel: +49 40 76629-6121
Fax: +49 40 76629-6129
Email: kilian@tutech.de